".
.... if Music is your thing, we've got records – world records, that is! – by divas such as Lady Gaga, Susan Boyle, Madonna, Pink, and Miley Cyrus
."
Guinness World Records
2011.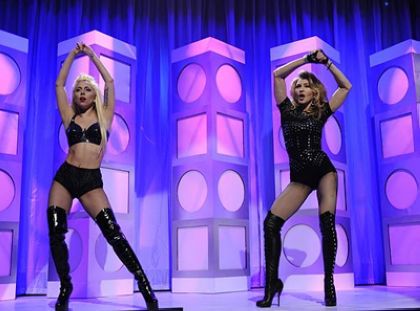 Lady Gaga-
holds the record for "Most Weeks on the UK Album Chart"; that is 154 weeks. Lady Gaga has another certification in the book for her digital sales in the US.
Madonna-
holds the record for the "Top-Selling Female Recording Artist
", with album sales up to December 2009 of 75 million in the
USA
and 200 million abroad. Madonna has at least another 3 certifications from Guinness this year.
Miley Cyrus
- holds the record since "The Most Charted Teenager" @ more hits at the age of 16.
Susan Boyle
- holds the record for "The Fastest-Selling Album in UK" with I million copies sold in 21 days.
MJ- Thriller sold 55 million albums so far ....
ON SALE USA/CANADA: SEPTEMBER 14TH 2010
ON SALE UK: SEPTEMBER 16TH 2010
ON SALE REST OF THE WORLD: STARTING ON SEPTEMBER 16TH 2010